Paris, September 13, 2018 – Under a partnership agreement signed in November 2016, Total Lubrifiants supplies Brough Superior with a range of ELF-brand lubricants assuring optimal performance for the manufacturer's exclusive makes.
Brough Superior, Rebirth of an Iconic Marque
A man with a passion, George Brough secured his place in history when he founded Brough Superior Motorcycles in Nottingham, England in 1919. Seen as the "Rolls-Royce of motorcycles,"1 the new marque quickly earned a well-deserved reputation for unmatched
performance, exceptionally sophisticated engineering for its time and racing victories.
In 2014, Brough Superior reinvented itself by rolling out the SS100, an elite high-tech motorbike hand-built near Toulouse, France.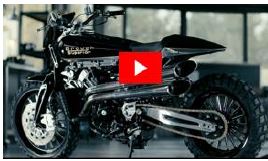 Elf and Brough Superior, a World-Class Partnership and Exceptional Products
Buoyed by over 40 years of motorcycle racing experience, the ELF brand is renowned for its continuous pursuit of performance and excellence. These are the reasons that Brough Superior picked Elf as a close partner.
To meet the elite motorcycles' specific requirements, Elf provides Brough Superior with ELF MODERN MOTORCYCLE OIL 10W-60, a high-performance lubricant that can withstand extreme engine pressures and temperatures, thanks to rigorously selected additives that
prevent even the most minor clutch malfunction while keeping friction just where it needs to be.
Elf has also developed the BROUGH SUPERIOR ELF VINTAGE MOTORCYCLE OIL line, which will give new life to vintage four-stroke machines. With four options to choose from, it is the best product for the total-loss oiling systems used in vintage models.
Mark Upham, CEO and owner of Brough Superior Ltd, said of the partnership: "Oil is an engine's lifeblood; the biggest future risk would be not getting the right power for our bikes. Elf can help us make better motorcycles and that's why we're such big believers in the
partnership's excellence and sustainability."
Thierry Gourault, Vice President, Automotive Lubricants at Total, added: "Just like Brough Superior, our ELF range was designed to match the ambitions of the brand and deliver outstanding performance. We're proud to be accompanying Brough Superior on the road to
success through this partnership."