Not pausing for breath, Dynavolt Triumph head straight to Thruxton for Round 4 of the 2021 Quattro Group British Supersport Championship this weekend.
Off the back of the most successful weekend for the team to date that saw the inaugural victory in the sprint race for Kyle Smith, swiftly followed by second place in the feature race later in the day, Smith arrives at the Hampshire circuit in confident mood.  The Spain-based Brit will contend with another track that he has never been to before but if Brands Hatch is anything to go by the 29-year-old is a fast learner.
Kyle Smith: "I'm very eager to get back on track after a good weekend at Brands Hatch.  We will be at another new track that I will have to learn but hopefully it will come quick and we can be on the pace on the Dynavolt Triumph."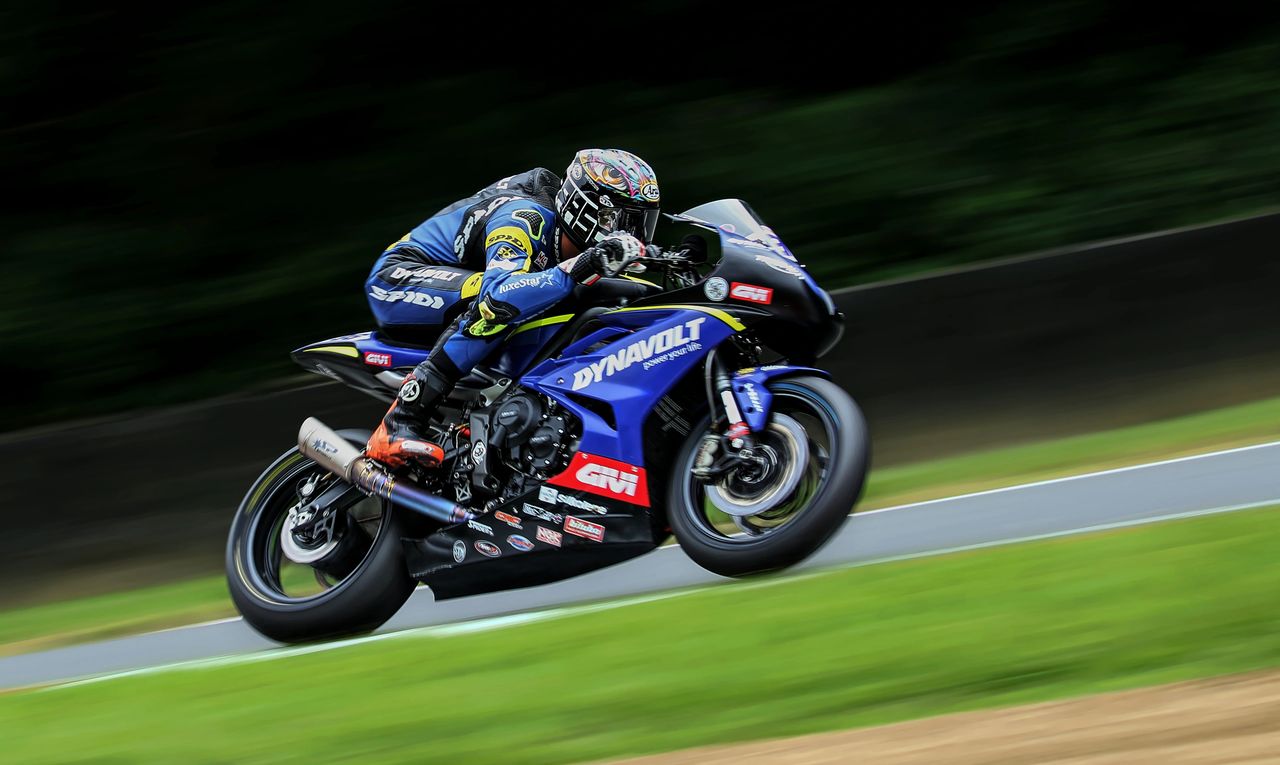 US rider, Brandon Paasch made huge strides in the dry sessions last time out at Brands Hatch and is keen to continue his forward trajectory at the super-fast flowing 2.356-mile circuit.
Brandon Paasch: "I'm super pumped to be headed to Thruxton.  I'm excited to have another go on the bike so close to the last race.  Main focus is to try and keep building the momentum and keep moving forwards!"
Dynavolt Triumph Team Manager Simon Buckmaster: "Brands Hatch was very successful for us, it's all fantastic news for the Dynavolt Triumph team and it moves us up into championship contention.  Obviously we need to put together a consistent run of wins but in this our first development season after only three rounds, it is a fantastic boost for the team and for Kyle's confidence going into round 4.
Brandon's starting position wasn't great for race two but he came through the field very quickly from 19th to 12th and his dry pace was there, his lap time was good in fact as it was at Knockhill, faster than Kyle's dry pace and that's positive.  He's young but the talent and potential is there.  We need to keep working with him to actually show that and put it all together in one weekend and then, with the confidence boost it would give him, continue to show it.  Kyle struggled there in the first dry bit of the race but we have to take into consideration that it was a brand-new track for him and the loss of time in FP1, so not so many laps in the dry on a tricky track.  We also need to consider how Brandon had got dry pace in the race 2 at Brands Hatch and Kyle didn't because he did have at Knockhill, he led the race.  This is the last time this year that we will go to a circuit that we've not already been to as we are testing at Cadwell Park on Tuesday.  Here at Thruxton the sessions are five minutes shorter than usual, only 25 minutes not half an hour and there is currently a very changeable weather forecast.   Depending when that rain does or doesn't come on Fri/Sat could have a huge effect on us for Sunday if we get no dry practice time.  We can only do the best we can, hope the weather is kind to us and that we can get to grips with a fast, wide flowing circuit with the practice time available to us."
British Supersport action from Thruxton kicks off with Free Practice One on Friday at 09:35 (BST)