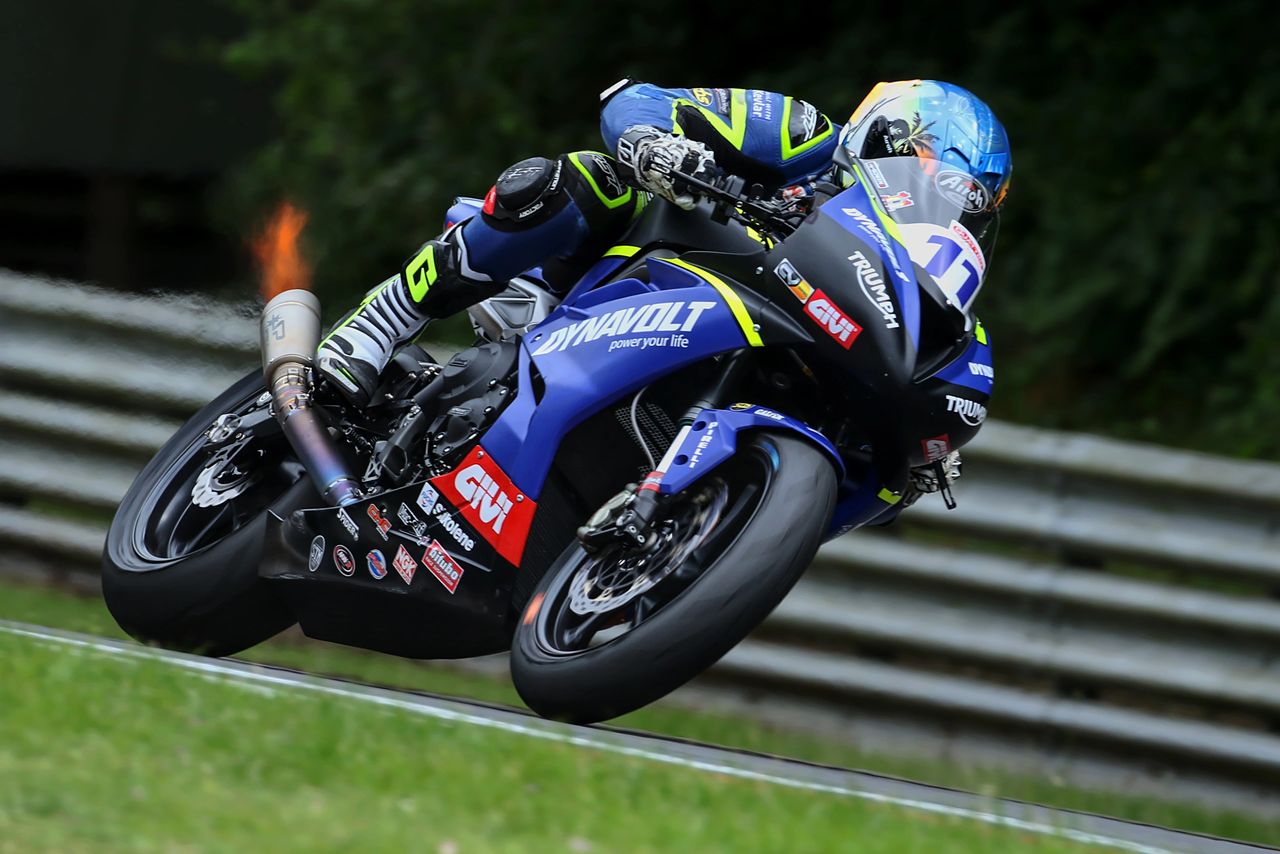 Despite not having been to the circuit before and losing most of the first session to an electrical issue, Dynavolt Triumph's Kyle Smith ended day one of the Quattro Group British Supersport Championship round from Brands Hatch, sixth on the Supersport combined timesheets with his time of 1'30.183, just over a second off the leader.
Kyle Smith: "We had a small technical problem this morning so I missed some track time.  To be honest that was important for me because it's a new track.  We got out this afternoon and the bike was feeling good.  I was just learning the track, learning the way round.  It's not the easiest of tracks but I'm enjoying it.  We are working on the bike set up a little bit to improve the lap times and we'll see how we get on tomorrow."
Teammate Brandon Paasch placed eighth on the timesheet after the second free practice, improving his lap-time across the two sessions by 0.746s and is confident that, weather permitting, there is more to come tomorrow.
Brandon Paasch: "Pretty good day here at Brands Hatch, I improved the lap time from the first session.  I'm just trying to keep making progress, working on some stuff with me, working on some stuff with the bike and the whole team is working good together.  Just keep improving and getting better and hoping for a good result in the races."
Dynavolt Triumph Team Manager Simon Buckmaster: "For Kyle to be inside the top six and get as close as he did considering he only did three laps this morning and eighteen in total – and four of those were in/out laps – was a fair job by him and good job by the whole team.  Brandon is still adapting to the Supersport bike and, as a less experienced rider, he is not as quick to adapt as Kyle.  If I look at the ideal time that he could have done from the sectors that we can see, he would be in the 29s, it's a matter of being able to put the sectors together.  Gearing wise, we have never been here before so there are still improvements that can come with the bike.  Kyle will just get better and better as he gets to grips with the iconic Brands Hatch, which is not an easy track to go fast round, and that will help to bring on Brandon as well. We'll look to qualifying tomorrow, the weather conditions could be very different which again doesn't help us if it was to be a dry race so let's just see what the day brings."