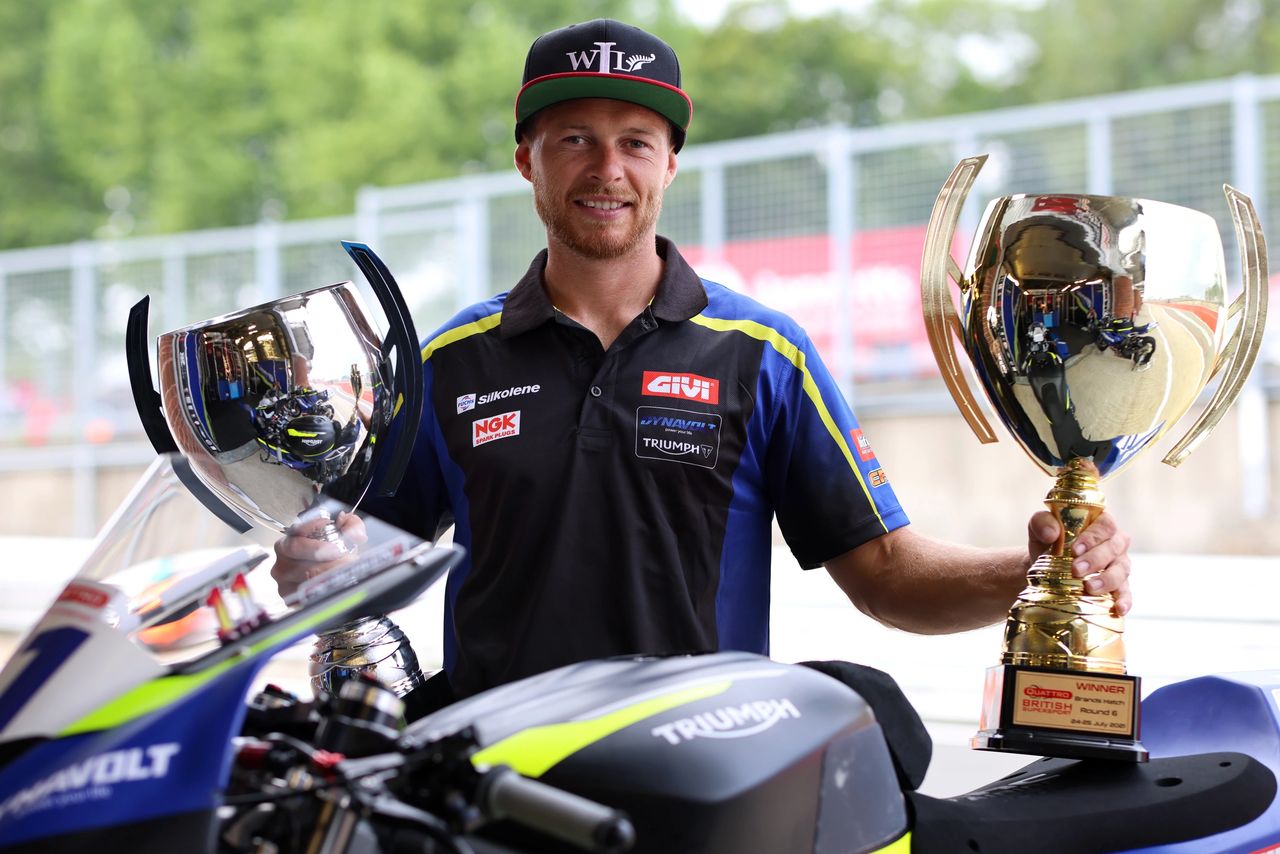 Dynavolt Triumph's Kyle Smith delivered the team its maiden victory in the re-scheduled Quattro British Supersport sprint race at his first visit to Brands Hatch today.  Smith got a superb start from the second row and took full control of the 10-lap race in a demonstration of level headed, intelligent riding, claiming the win by 0.37s at the flag.
Teammate Brandon Paasch was forced to pull in after 5 laps due to a small electrical fault with the tilt switch which ended his sprint race prematurely.
The afternoon's feature race was scheduled to take place over 18-laps but was red-flagged on lap six due to rain with Smith in 9th position and Paasch in 12th.  The race was re-started as a wet race over 8-laps and, in an action-packed battle for the rostrum, Smith took 2nd with two laps to go to deliver another podium celebration for the team and moves to 5th position in the championship standings.
From his position on the 7th row of the grid, Brandon Paasch was showing great pace, getting down to the 1'29s for the first time this weekend just as the race was stopped.  The young American re-started the race from 12th on the grid, bringing it home in 7th Supersport place and collecting nine championship points.
Kyle Smith: "End to a good weekend for us at Brands Hatch. I managed to finish on the podium in both races.  I have to say I dropped a bit lucky that the weather conditions favoured us a little bit with the rain, but all in all happy.  We need to carry on working on the bike a little for the dry setting but we are getting there, we are making improvements and I feel more comfortable every time I go out.  I'm excited to get to Thruxton and see if we can be on the podium again.  Big thanks to Dynavolt Triumph for putting a good bike together."
Brandon Paasch: "Good race two here at Brands Hatch I finished 8th or 9th overall, 7th in Supersport. I felt really good in the dry, I was making good progress coming from 19th up to 12th.  Restart I started 12th and made my way up, it was a good race.  I struggled a little bit in the wet but learned a lot this weekend for sure.  Looking forward to Thruxton next weekend and hopefully keep building on what we're learning."
Dynavolt Triumph Team Manager Simon Buckmaster: "A win and a second for Kyle is fantastic.   In the dry part of the race it wasn't looking so good for us but you have to take the good with the bad.  It didn't work for us at Knockhill, it has worked for us this weekend.  We would have liked two wins but that is still a really good result for the team, great job by everybody.  In proper wet races like that we learn a lot and, working with Bitubo and Triumph we can improve the feel and we will go forward again."
"Brandon rode a really good race two.  In the dry section he did a good dry lap time, the best he's done so far so a great day for the team overall.  Congratulations to everyone.  We've only got to wait until next week at Thruxton which is a good, fast flowing track, I think we'll be good there. I can't wait for it, see you all there."