24 September 2021
|
Latest News
After being given the green light to ride, Brandon Paasch was reunited with his Dynavolt Triumph for the opening day of round nine of the Quattro Group British Supersport Championship at Oulton Park today.
Despite it only being three weeks since Paasch incurred the injury to his wrist and just a fortnight since the successful surgery to insert a screw into the fracture, the US youngster was passed fit and managed to complete both Free Practices, improving his lap time by over a second across the two sessions to end the day in twelfth position.
Brandon Paasch: "It's good to be back on the bike, I'm excited and ready to race.  I just want to try to get some points and keep having fun, keep getting a little quicker as the weekend goes on and hopefully the wrist starts feeling better."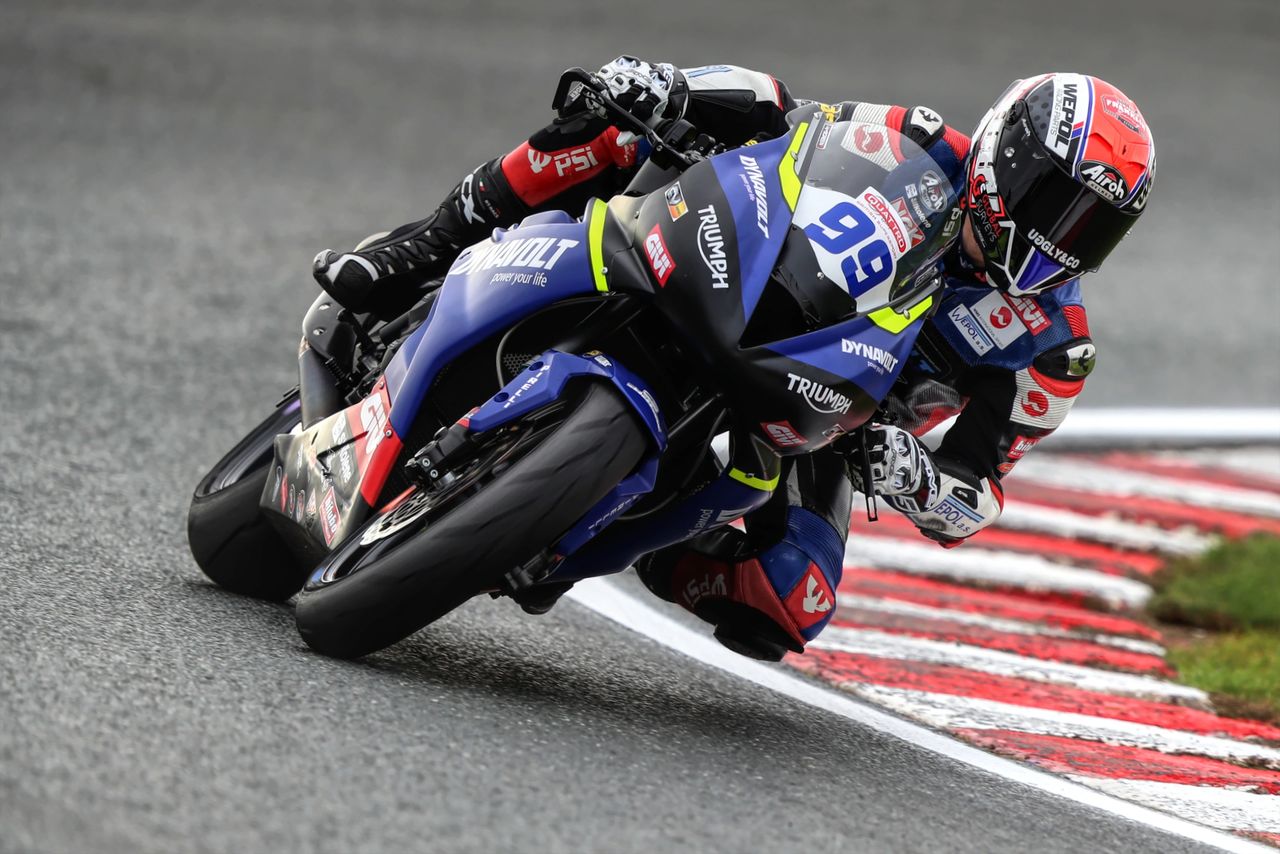 Deputising for the injured Kyle Smith, Danny Webb's debut didn't quite go to plan as he suffered an electrical gremlin in the first Free Practice session, missing valuable track time needed to reacquaint himself with the challenging Oulton Park circuit and familiarise himself with the three-cylinder Dynavolt Triumph machine.  Unfazed Webb headed out in the afternoon session to set his time of 1'42.174 placing him sixteenth on the combined timesheets.
Danny Webb: "It's been a good day, obviously we missed out on the first session but the second session was good. It was interesting to ride the bike and it is definitely an eye opener coming back to Oulton Park but we've got a session under our belt now so looking forward to progressing tomorrow."
Dynavolt Triumph Team Manager Simon Buckmaster: "We have to take this meeting as a building exercise for us.  With Brandon coming back from injury, the surgery to his wrist was good but of course it's not full strength so he is taking time to get up to speed.  We had a new wiring loom on Danny's bike this morning and there was a minor glitch with it that lost the session for him, the sessions here are only 25 minutes not 30, so he has done one session.  Again, it's a building exercise.  We'll build through race one, a little bit again in the warm up and build through race two. Then we go to Donington Park, a track he knows, and see what he can do there.  Tomorrow is another day and we just have to keep improving."